Create this healthy, light and filling garlic halibut fish recipe with the easy and creamy pasta salad as the side dish.
If halibut fish is not your favourite type of fish, then you can substitute it with hake.
To make this recipe more hearty and much more filling, you can swop the pasta salad out for a side of fries, fluffy rice or creamy mash potatoes.
Garlic halibut fish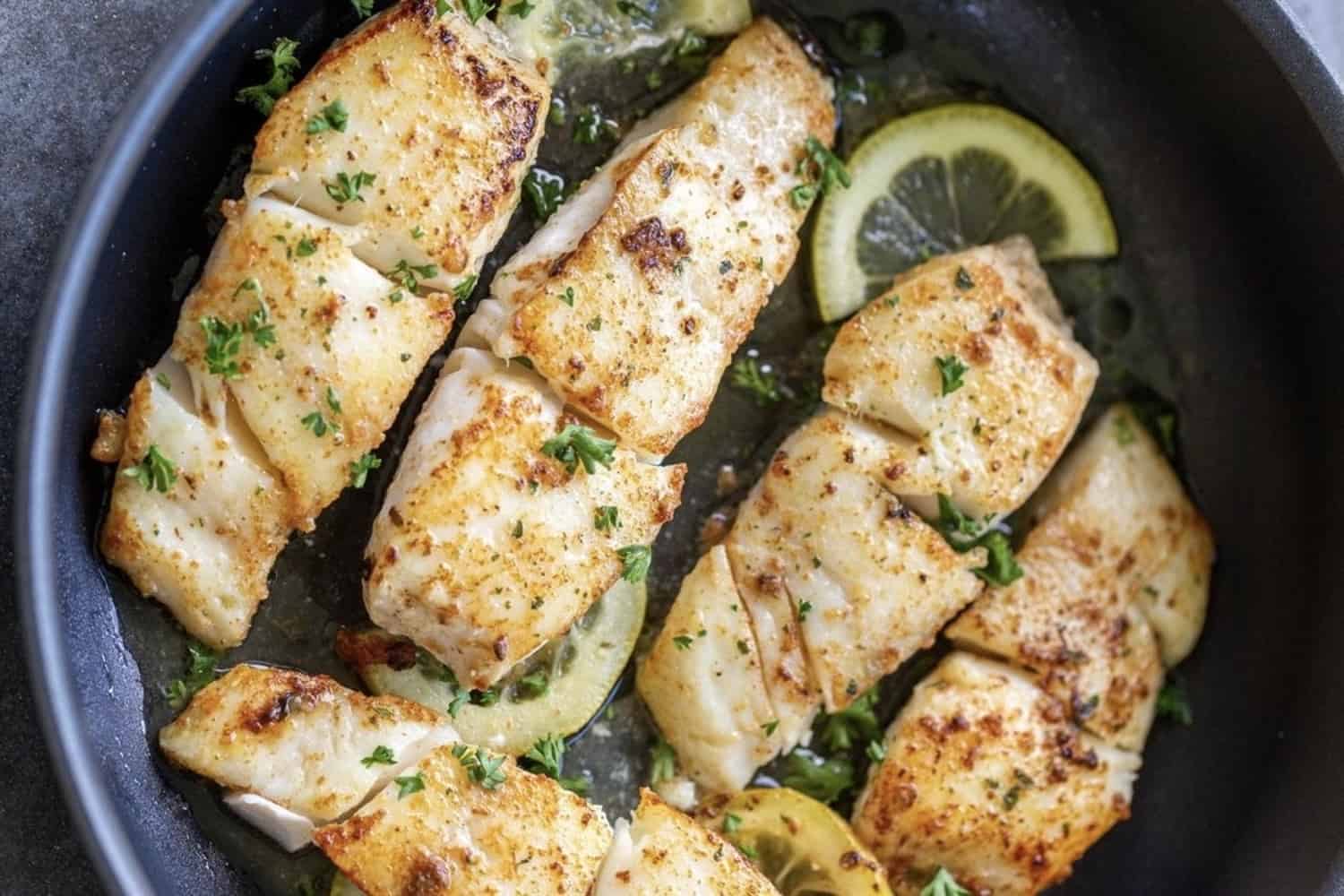 Ingredients
4 halibut fillets
1 tablespoon of olive oil
2 tablespoons of lemon juice
1/4 cup of coriander and lime salad dressing (french or italian may be used if you prefer as an alternative)
2 garlic cloves, sliced
2 tablespoons of mixed dried herbs
garlic salt for seasoning
ground black pepper to taste
a dash of butter
Instructions
Place a large piece of aluminium foil (shiny side up) on a baking tray / sheet. Ensure big enough so that it can fold over thus creating a bag with the fish inside.
Place washed and dried hake fillets onto foil.
Drizzle olive oil, lemon juice and salad dressing over the fish.
Season with garlic salt, pepper and mixed dried herbs.
Place garlic slices over fish and drop small bits of butter over fish. Alternatively, butter may be melted and drizzled over the fish.
Fold foil over the fish and fold ends around the fish together to create a bag.
Place into preheated oven (120 Degrees Celsius) and bake for roughly 15 to 20 minutes or until cooked.
Enjoy!
This recipe was found on cookpad.com
ALSO READ: Recipe of the day: Garlic herb butter roast chicken
Easy creamy pasta salad
Ingredients
3 cups of uncooked fusilli pasta
2 heaping cups of halved cherry tomatoes
1 ½ cups of cooked chickpeas, drained and rinsed
2 cups of arugula
1 cup pf cucumbers, sliced into thin half moons
1 cup of crumbled feta cheese
1 cup of basil leaves, torn
½ cup of minced parsley
½ cup of chopped mint
¼ cup of toasted pine nuts
¼ cup of extra-virgin olive oil, more for drizzling
3 tablespoons of lemon juice
1 teaspoon of Dijon mustard
3 garlic cloves, minced
1 teaspoon of dried Italian seasoning
¼ teaspoon of red pepper flakes
¾ teaspoon of sea salt
Instructions
Bring a large pot of salted water to a boil. Prepare the pasta according to the package directions, or until slightly past al dente.
Meanwhile, make the dressing. In a small bowl, whisk together the olive oil, lemon juice, mustard, garlic, herbes de Provence, red pepper flakes, and salt. (Note: the dressing will have a strong flavor, it'll mellow once it coats all of the pasta salad ingredients).
Drain the pasta, toss it with a little olive oil (so that it doesn't stick together) and let it cool to room temp. Transfer to a large bowl with the tomatoes, chickpeas, arugula, cucumbers, feta cheese, basil, parsley, mint, and pine nuts. Pour the dressing and toss to coat. Season to taste with more lemon, salt, pepper, and/or a drizzle of olive oil, if desired, and serve.
This recipe was found on loveandlemons.com